Introducing our Heritage Collection – From Our Land to Your Hands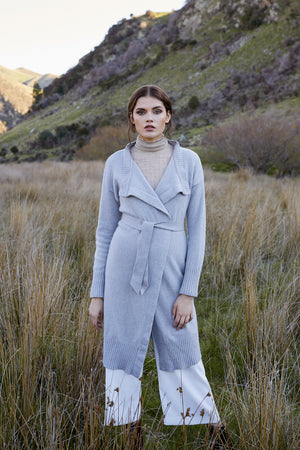 2019 so far has been a wonderful year for the McDonald New Zealand team. It has been a very busy year filled with new ideas and growth- and being able to introduce our new Heritage Collection to our customers was an exciting and proud highlight for our team.
The McDonald New Zealand Heritage Collection is a range of women's and men's garments and accessories crafted from 100% New Zealand ZQ Merino wool sourced from our very own farm, Tyntesfield, located on New Zealand's South Island, and select NZ growers. We blend this especially fine Merino wool with possum fur and mulberry silk to create a blend with a higher percent of Merino wool than our base range styles, with a ratio of 70% Fine NZ Merino Wool to 20% NZ Possum Fur, and 10% Mulberry Silk. Our Heritage Collection blend offers the same gloriously snug feeling that our customers love about possum merino, but with a lighter and finer feel that we are sure will delight.
This collection was inspired by our love of New Zealand, and marks a homecoming for McDonald- by incorporating our own fine ZQ wool into these special pieces, we are able to celebrate our family farm, a magically beautiful place that is woven into the McDonald story – a story of inimitable quality, and love for the land. ZQ stands for the highest commitment to sustainability, fibre quality, animal welfare, traceability, and social responsibility – values that we champion and are proud to highlight in our newest range.
We think this year's collection is our best yet- with pieces that speak to our core values of authenticity, timelessness, and functionality. The garments bring our mantra of "field to fashion" to life- with an emphasis on the beauty of our raw materials and their origins. Through unique textures reminiscent of our rugged and changing environment, and seasonal tonal hues, our Heritage Collection captures the essence of our local landscape and celebrates the natural fibres of New Zealand.
Some of our most-loved pieces from the collection include:
The Origami Neck Sweater- with a versatile neck that can be styled in many ways: 
The Wrap Over Coat, an elegant wardrobe staple:
Our comfortable and modern Men's Bomber Jacket:
The wonderfully snug and portable Ombre Throw in Silver/Pewter/Charcoal:
To  learn more about ZQ wool click here.
To shop the Heritage Collection, be sure to visit our online shop here.