Laying Out: Your Guide to Packing for Different Seasons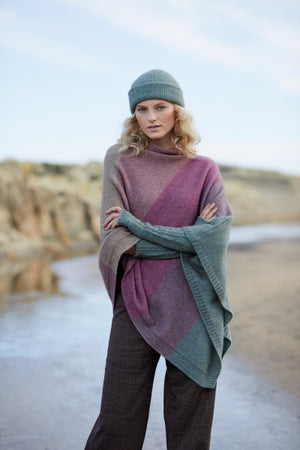 Regardless of whether you are heading away for a long weekend to Queenstown or a three-month overseas adventure, deciding what to pack is often a massive headache. It gets particularly tricky if your travels lead you through several different regions or climates.
We all know, there is absolutely no way you can fit everything into our suitcases unless we want to donate a lot of money to the airlines. So the question becomes, what and how do you decide to pack?
However, if you are smart with what you take, packing doesn't have to be a confusing or stressful task.
The key to packing is choosing clothes that are firstly versatile, and secondly, don't take up a lot of space in your suitcase. So, ideally, you want to take clothes that fit different situations, light enough that they don't weigh you down but have the ability to keep you comfortable no matter what the weather throws at you. The answer is your McDonald knits.
Not only are McDonald knits beautiful, but they are also the ideal pieces of clothing to take away on your next adventure. Our possum merino knits make it easy to capsule your suitcase ensuring you are prepared for every situation.
The key to organising your suitcase is to choose different pieces that will suit a variety of situations and temperatures while keeping you looking good. Within our stunning collection, you will discover a number of pieces that compliment each other or will complete any look. Whether this is garments that are meant to be signature pieces of an outfit, such as a jacket or cardigan, or subtle pieces to complete the look, like our scarves or hats.   
The versatility of our collection means they will quickly become staples of your suitcase. Due to this ability to capsule your suitcase with our knits, McDonald knits reduces the need to travel with multiple layers or options. Which is perfect for travelling to cooler climates. Where in the past you may have packed a large coat and several various undergarments to keep you warm. Now all you will need is your Possum Merino Longline Coat and Possum Merino Fine Rib Scarff, to keep you stylish and warm.
What allows our beautiful garments to be such an amazing travel companion is found at the heart of our yarn. When we combine merino wool and possum fur, the outcome is this extremely lightweight and breathable fabric which truly has no rival.
On their own, both of these fibres possess numerous qualities which make them highly sort. However, when we combine the two, the result is this amazing blend that is perfect for any weather conditions. Due to this beautiful blend our knits unbelievably warm and breathable, meaning you will stay comfortable and cozy in any situation.
Additionally, when you compare our blend against other natural fibres such as wool or Cashmere, our knits do not pill, crease or wrinkly. Ensure, your knits stay beautiful for years to come.
It is due to these characteristics, that McDonald possum merino needs to be the first clothing items you think of when you begin packing your bags. By filling your suitcase with your McDonald staples, you will not only be warm and comfortable but also stepping out in style.
Within our recently launched 2018/19 collection, there is a style or knit for everybody. Discover our beautiful collection today.