McDonald Knits: Crafted in Your Backyard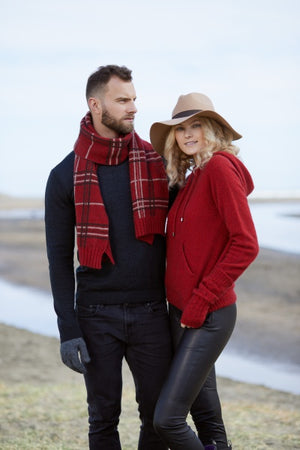 At the heart of every McDonald possum merino knit is a secret. This secret is what gives our garments their luxurious nature and timeless style while ensuring that they stand the test of time to become loved and relied upon wardrobe staples.

That secret is our commitment to ensuring every step of our process, is conducted right here in New Zealand. We are lucky to have all the resources and expertise needed to craft every piece of our collection in-house. Being able to manage everything from sourcing our own blend of 100% natural fibres, to designing our beautiful garments and crafting our ranges, allows us to guarantee that every McDonald creation is of the highest quality.

The journey of every McDonald piece begins with the creation of our unique possum merino blend. From there, the experienced hands of our team begin to work their magic. Our designer strives to create styles that are timeless and classic while incorporating fresh inspiration and colourways. Our craftspeople then bring these designs to life - checking our knits for perfection and ensuring each step of garment production, from sewing to the finishing press is exacted to our high standards.
As we believe excellence lies in the details, we spend a lot of time and energy making sure the details on our pieces spark joy for our customers. You can see this attention to detail in the exquisite softness washing imparts to our possum merino, in the buttery suppleness of our lambskin leather detailing, and the beautiful shine of authentic paua shell buttons.  
Our love of the land extends to our business values. Whether it's sourcing sustainable natural materials, such as merino wool and ethically sourced possum fur, or leaving a minimal manufacturing footprint through conscious equipment selection and transportation decisions, we pride ourselves on having as little an impact on the natural environment as possible. As we are not a fast-fashion brand, our garments stand the test of time and do not contribute to the growing issue of excess textile waste.

Take comfort in knowing that every McDonald piece you own will be with you for a long time- it was made with the utmost attention to detail, has been lovingly worked on by skilled hands. When you purchase your next McDonald knit, we hope you can see, feel and appreciate the love and care that is put into crafting each piece.

Discover our latest range and timeless favourites today.