Possum Merino: The New Gold Standard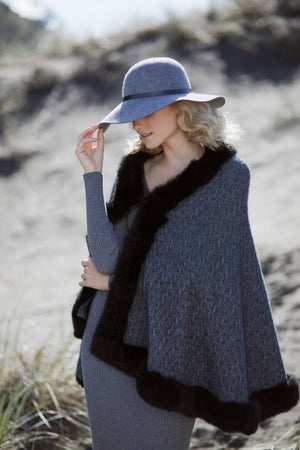 When most think of luxurious natural fibres, there is generally one type that comes to mind: Cashmere. While this is a beautiful fibre and has been the leading luxury wool for a number of years, it now has a fierce rival, possum merino.
Once you understand more about possum merino it is easy to see why this luxurious blend could quite possibly over-take cashmere as the gold standard of luxury natural fibres.
One of the main reasons why cashmere garments are highly sort after is due to their ability to provide great warmth while being fairly lightweight. However, possum merino beats out cashmere in every aspect of the warmth to lightweight ratio.
Due to the perfect blend of merino wool, brushtail possum fur and mulberry silk, our possum merino knits provide the wearer with an unrivalled level of warmth and comfort. The blend of these amazing fibres is a massive 35% warmer than cashmere wool alone, along with being lighter than cashmere or merino wool on its own. Essentially, this is all due to the hollow nature of the brushtail possum fur.
This hollow nature traps the wearer's body heat in and holds it against their body in cold environments. Which gives possum merino the title of best natural insulator on the market.
Due to the unique structure of possum fur, our knits are extremely breathable, which helps to regulate body temperature. Both Merino wool and Brushtail possum fur wick moisture away from the body and release it into the air, giving you added comfort and helping resists odours. Because of this you can rest assured that no matter what occasion or environment you are stepping out in a McDonald garment, you will be warm, comfortable and stylish; all in one. This makes McDonald knits perfect for those chilly winter months or sunny spring days when there is still a bite in the air.
When you are wearing one of our elegant knits, you will feel wonderful from the warmth, comfort and compliments you receive. Thanks to the lightness of the garments, you will never be weighed down by big heavy coats or cardigans. Instead, you will be wrapped in a beautiful knit that is incredibly soft and feels totally luxurious.
Outside of the luxurious and stylish nature of our knits, we pride ourselves on creating high-quality pieces that withstand the test of time. Whether you purchase from our 2018/2019 collection or one of our timeless classics, we guarantee our pieces will be durable and long-lasting.
Pilling can be a problem with many natural fibres, however, when merino wool is combined with possum fur, it becomes highly pill resistant compared to cashmere. Due to this, your McDonald knits, new or old, are made to be timeless staples of your wardrobe.
Possum merino blends are fast becoming the gold standard in natural luxury. With a number of amazing characteristics, we believe it will not be long until possum merino stands at the top of the luxury wool market.
If you would like to find out more about possum merino, we have a number of informative and easy to read blogs. Or, if you would like to discover our beautiful range of women and men's clothing, shop away.