The Perfect Combination: Why Possum Fur and Merino Wool Create the Perfect Blend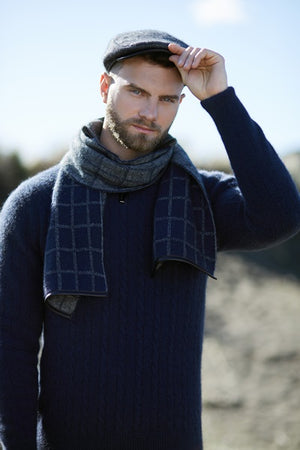 Possum merino is widely regarded as one of the most beautiful and luxurious wool blends in the world. Its soft, lightweight texture combined with the fact it is extremely warm and versatile, has made possum merino knits highly sort after.
However, many people are yet to discover the unique qualities that each element in our blend brings to the table in creating our luxurious McDonald possum merino knits. We believe each is special in their own right, so we have outlined their own unique characteristics and why they are special.
Possum Fur
New Zealand possum fur is characterised by its short and fine fibre which has a uniquely hollow structure. This unique hollow structure is what makes possum fur so special. In fact, the hollow fibre structure is only found in one other animal, the polar bear.
As a result of its fibre, possum fur has unrivalled heat retention and insulation properties. This is possible because any heat produced is trapped within tiny air pockets within the fur before it can escape. Helping to keep you toasty warm when the winter months roll in.  
In addition to the warmth possum fur provides us, it is uncannily lightweight and soft to the touch. While this makes the fur perfect to wear year-round, it also helps to release and draw moisture away from the body and into the air.
When compared to other common wool or fur types, possum tends to be 8% warmer and 12% lighter. When combined with merino wool and mulberry silk, possum fur creates a luxurious and elegant blend that is perfect for any occasion.
Merino wool
Merino wool is a naturally occurring fibre, which is produced by merino sheep in the South Island high country.
When compared to possum fur, merino wool is typically a much longer and stronger yarn. Alone, merino wool is thought of as one of nature's most versatile yarns. With the ability to keep you nice and warm during harsh winters and comfortable and cool in the warmer months. This is due to the yarn being fairly permeable, which means it is extremely breathable.
Like possum fur, merino wool is hypoallergenic. Which means the wool is very friendly on the skin and will not cause irritations or discomfort, regardless of the situation. It is for this reason, merino wool has long been considered an ideal wool for babies who may have sensitive skin or allergies.
Combining the two
On its own merino wool is a beautiful yarn that produces stunning knitwear. However, when we combine with possum fibre and add in a little mulberry silk, it produces a luxurious blend that is both soft, lightweight and perfect for all seasons.
The McDonald possum merino blend is 35% warmer than other common wools and an amazing 55% warmer cashmere alone. Making it perfect for winter, but because of the breathability and lightweight nature, McDonald possum merino is ideal for many other occasions such as travelling.
We are lucky enough to have access to these beautiful fibres, and with our dedication to producing timeless pieces that are perfect for anyone's wardrobe, we are sure you'll fall in love with McDonald possum merino!
To discover the wonders of our new collection, follow us.