Why New Zealand Loves McDonald Possum Merino and You Should too!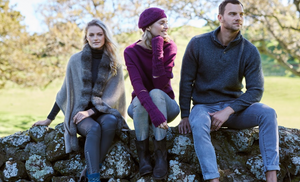 New Zealand is known for its breathtaking natural beauty. From vast mountain ranges with snow-capped peaks to stunning beaches and untouched rainforests; we owe a lot to our beautiful landscape.
Possum merino wool has become the essential blend for people wanting elegant fashion that is natural, sustainable and can be enjoyed season after season. New Zealand has fallen in love with every last stitch of McDonald possum merino, from the beautifully soft and stylish feel to its practical lightweight nature.
Natural and sustainable
Possum merino is a 100% naturally sourced and sustainable fabric. We are proud to say that our luxurious clothing leaves an extremely small footprint on our natural environment.
Possum fur isn't just an incredibly warm and soft fabric, the fur is a byproduct of a necessary eradication campaign to save New Zealand's native flora and fauna. When you are wrapped in one of our beautifully crafted garments, you can rest assured the source and process of our brushtail possum fur complies with New Zealand legislation, including the Animal Welfare Act 1999, as well as The New Zealand Fur Council Best Practice Guidelines.
Merino sheep thrive in high altitudes and versatile terrains. Their healthy coats grow between three to five kgs of fleece a year which makes the beautiful merino wool readily available year round.
By combining merino wool with ethically sourced possum fur, we create completely natural and sustainable garments, that will not only leave you warm and feeling beautiful but have minimal impact on the environment.
Warm but lightweight
Our luxurious blend of possum merino is the perfect combination of elegance and luxury without sacrificing warmth or practicality.
Possum merino's combined fibre structure keeps you warm without overheating. This is due to the hollow structure of possum fur, which traps heat much like a thermos. When woven together with super-fine merino wool and mulberry silk, possum merino holds the distinction as one of the lightest, softest and warmest fabrics in the world.
Temperature and moisture control
Our unique possum merino blend creates an extremely versatile and practical fabric that is perfect for all conditions. Both the super-fine merino wool and hollow possum fur have features that help minimise the effect that temperature and moisture have on the wearer.
The merino sheep has a unique crimped coat which traps body heat into air pockets, keeping you warmer for longer. It is also incredibly breathable and naturally regulates your body temperature by releasing heat when you get too warm.
Merino also has the incredible ability to keep you insulated when the elements are against you. Merino wool can absorb up to 30 percent of its weight in moisture without feeling damp. It cleverly beads the moisture to the surface leaving your skin toasty and warm.
McDonald possum merino is universally loved by New Zealanders who want stylish, quality clothing that can be worn season after season. Try it for yourself, we know you will fall in love too.