Why Possum Merino Should be a Suitcase Staple for Every Holiday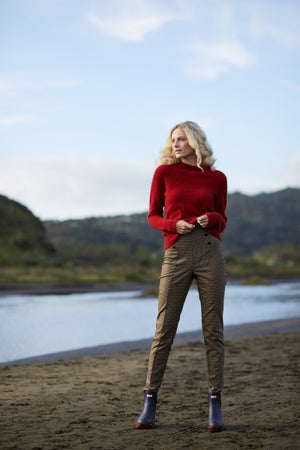 Next time you are planning a getaway, there is one thing you absolutely can't forget, your McDonald possum merino knits. While possum merino is well known for being an amazingly luxurious and elegant fabric, are you aware that possum merino clothing is also perfect for travelling?
Let us show you why your possum merino knits should be the first thing you place into your suitcase next time you travel.
Flying, especially long-haul international flights, can be somewhat uncomfortable. However, travelling in McDonald knits will not only keep you looking elegant and stylish but also extremely comfortable.
The light-weight and breathable nature of possum merino clothing makes it the perfect yarn for those long flights or maneuvering through busy airports. The lightness of the garments provides maximum comfort when travelling, while not weighing you down as you bounce between cities or airports. While the breathable nature of possum merino will help dissipate any unpleasant sweat or odour, keeping you fresh and comfortable for the duration of your flight.
Our possum merino knits are the perfect attire to wear while you travel. With most aeroplanes pumping the cabin with cool air, your McDonald's knits will keep you nice and cozy. Plus, because our knits are extremely light, they won't take up a lot of room in your carry on luggage.
Packing for these overseas adventures can sometimes be a nightmare. Trying to decide what to take, what not to take, and then you must answer the most important question, 'will it all fit?'.
While a lot of clothing or accessories tend to not travel too well because they are bulky and heavy, possum merino solves that problem. McDonald possum merino knits are not only deliciously warm but also very light, so they won't weigh down your luggage, saving you the worry of luggage weight restrictions!  
Not only do they not take up a lot of room or weigh you down, but they also do not crease readily and because of the wonderful odour resistant properties of possum merino, you don't need to worry about washing the garment after every use.
Because possum merino travels extremely well it makes it highly versatile and perfect for any adventure you embark on. Whether you decide to hit the ski slopes of Canada or Europe, explore the wonderful jungles and rainforests, or enjoy a lovely dinner under the stars, possum merino is practical enough to cover all bases.
Our aim is to design beautiful knits that can be worn in a variety of ways, whether you are dressing up or down. For example, our Possum Merino Cape with Button Detail is amazing for wearing on a cold night out, accompanying you to formal events or rugging up by the fire on a night in. Because of their versatile nature, our knits are the perfect travel campaign as you'll never run out of head-turning outfits.
An added bonus of their versatility is you won't need to pack as much before leaving, which leaves more room in your suitcase for the goodies and souvenirs you'll pick up on your adventures.
Although possum merino is best known for its stunning beauty, many people are not aware that it's also great for travelling. Whether you are heading away for an extended vacation or away for the weekend, possum merino should be a suitcase staple.
Discover the McDonald possum merino range today.